THE BUTCHERY'S CATERING
Let The Butchery cater your next party or wedding. We can customize menus to fit your needs.
Ask us for more details.
THE BUTCHERY'S BUFFET
Hot Items
Ziti/ Shells w/Meat Sauce | Baked Chicken | Bar-B-Que Chicken |
Italian Meatballs | Swedish Meatballs | Kielbasa & Kraut | Sausage & Peppers | Baked Beans
| Mashed or Roasted Potatoes | *Lasagna | *Chicken Parmesan | *Eggplant Parmesan
Cold Items
Potato Salad | Macaroni Salad | Rotini Salad | Cole Slaw | *Cheese Tortelini Salad | * Fruit Salad
Cold Cut Tray
*Cold Cut/ Cheese Tray (Roast Beef, Ham, Turkey, Provolone, American)

$12.99/ PERSON
Pick 3 Hot Items From Above | 2 Cold Items From Above | Rolls & Butter | Paper Goods
*Extra Charge items
Delivery and setup extra. You can add extra hot items for $2.00 each or extra cold items for $1.00 each.
Menu is based on a 40 people minimum. Parties under 40 are subject to an additional charge.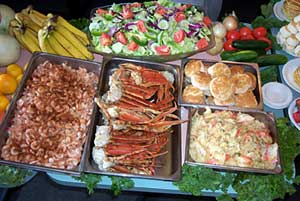 PARTY PLATTERS
Baked Ham, Roasted Turkey Breast, Roast Beef, Choice of 2 Cheeses
(Swiss, Provolone, American)
$2.99 per person or Add 2 Cold Salads, Fresh Rolls, & Paper Goods for $4.99 per person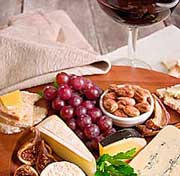 BARBECUE MENU
B-B-Q Chicken | Hamburgers | Hot Dogs | Baked Beans | Potato Salad | Cole Slaw
| Macaroni Salad Disposable Dinnerware | Watermelon Wedges | Ice Tea & Lemonade
Ask About Our Prices for Smaller Parties
We Even Bring The Grill!
ADD
Pulled B-B-Q Pork | B-B-Q Baby Back Ribs | Assorted Soda & Water
Cornbread | Kielbasa | Andolli | Corizo | Homemade Cookies & Brownies
Tossed Salad | Smoked Italian Sausage & Peppers | Corn on the Cob
If You Would Like Something Else……Ask!!!!

CATERING YOUR WEDDING - BY THE BUTCHERY
Your Choice of Stuffed Chicken Breast | Old Fashion | Broccoli & Cheese | Cordon Blue | Spinach & Rice | Hand Sliced Roast Beef | Ziti & Meat Sauce Roasted Potatoes | Mixed Vegetables | Tossed Salad | Rolls & Butter
(50 People Minimum)
Ask About Our Prices For Smaller Parties
Also Included
Cutting Of The Cake | Paper Goods | Help Fill Toast
Changes Can Be Made To Menu | China Available